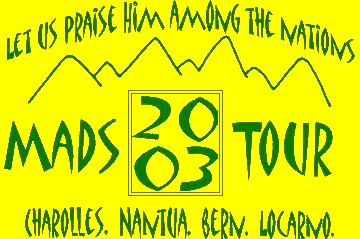 Welcome to the Annapolis Area Christian School Madrigal Singers concert tour of France, Switzerland and Italy, June 12 - 24, 2003.

We invite the friends and family of the AACS Madrigal Singers to share in the tour experience--as it takes place!

This site will be updated daily with news and images as the tour progresses. Clicking on a particular tour date from the Itinerary box to the left will aquaint you with where we are and what we are doing each day of the tour. If all goes as planned, you will even see pictures of the day's events.

The tour will bring the AACS Madrigal Singers to Geneva, Charolles, Nantua, Courmayer, Bern, Lauterbrunnen, and Locarno. Concerts will be given in various churches throughout Charolles, Nantua, and Tenero.

The highlight of the tour will be in Bern, Switzerland where the Madrigal Singers will participate in the 20th International Church Music Festival as part of an international choir consisting of over five hundred voices conducted by Sir David Willcocks.
Latest News
Friday's recording of I'm Gonna Sing will be aired on BBC radio 4 Sunday at 8:07 Britain time (that's 3:07 am US Eastern time). You can listen live via the internet by clicking HERE which will bring you to a page where you must press a button to listen.
Listen to the Madrigal's Sunday performance of Jesus Christ the Apple Tree (requires Real Audio player.
Email is back up! Feel free to write us.
Click HERE to see some of what we did today.
Note: If you find that this link brings you to the same day it brought you to previously... it means we couldn't get an internet connection to do the day's upload. We hope that updates, with current pictures and news will not be delayed more than one day.
Read the Madrigal's tour PROGRAM!