Monday, June 25
Boat trip to Villa Carlotta and Bellagio

| | |
| --- | --- |
| | "Sir Arthur" |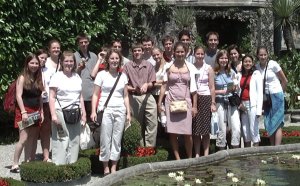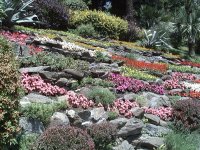 Garden at Villa Carlotta
Bellagio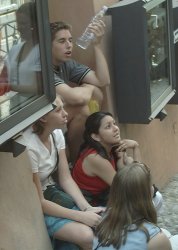 Shopping in Bellagio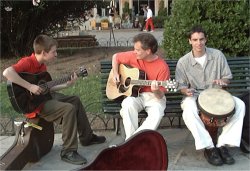 With the performance of the final concert behind them, the Madrigals had a full day to explore the Lake Como region by boat, in particular the gardens at Villa Carlotta and the lovely town of Bellagio.
Upon our arrival back to the hotel, Jonathan, Mark, and Todd performed in the town square to an audience of… Madrigals! They had a great time jamming together on Dejembe, bass, and guitar.
Dinner was held in the hotel and everyone had a great time discussing the trip, presenting awards, and giving thanks, at times through joyful tears, to all who made this tour such a meaningful experience.
Mr. Hill ("Sir Arthur Hill" as we refer to him) closed the evening with the benediction.
---
Final Thoughts - Loris Nebbia
Since I've been back in my native land, many have asked me to describe my favorite part of the trip. Normally, I can answer this question easily, but for this trip, it proves difficult. I think my favorite part begins with all the beauty we saw –incomparable mountains, charming villages, uplifting colors in buildings, landscapes and the magical flowers. All was quaint, stunning, memorable, worthy of imitation and especially enjoyable because I saw it all with such an intelligent, cheerful group of teenagers.
Next, I value watching Cindy Bauchspies work. Before this trip, I knew she was a gifted musician and teacher, but now I know a sense of awe and deep affection when I think of her way of living. Cindy is the exemplary professional Christian woman. She creates beauty; she inspires others to accomplish more than they ever dreamed possible. She brings class and elegance to the creation of her challenging vision. I saw this in every concert. And in all this busy-ness, Cindy behaves unselfishly. She treats others with kindness, interest and good humor. But above all, she concerns herself with serving and glorifying God. It was a privilege to watch her and learn from her.
But, there are many Christ-like examples I have treasured on the trip, including Art and Peg Hill's wisdom, Todd's continual, cheerful servant-hood, Chris Porter's prayer support, and the students' untiring cheerfulness as they worked hard, rose earlier than they would ever have chosen, and gave themselves to God's work, again and again. I appreciated the teamwork with which all of the adults who came along helped. Together we worked on the many, complex details required to put on a concert, together we took care of the young people and took joy in the trip. To be surrounded by such a cloud of witnesses, brought me such joy.
And finally I treasure the music in each concert, knowing that every song was a most meaningful and valuable gift from God. What did I like Best? Best of all, I liked being there, being included in this wonderful experience, being allowed to see, to know, and to hear and to enjoy. Best of all, I loved everything.
Today's Agenda
Morning
Breakfast in hotel
Excursion by boat to Villa Carlotta and Bellagio
Afternoon
Lunch
7:30 pm
Farewell dinner in the hotel