Tuesday, June 19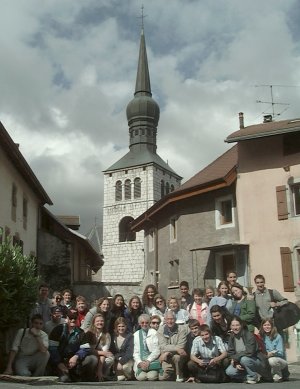 Group with St Jean Baptiste Church in background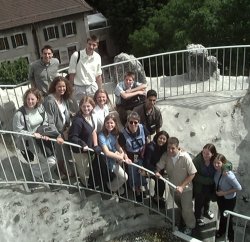 Climbing down castle tower
Trip to Annecy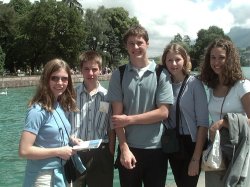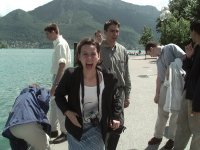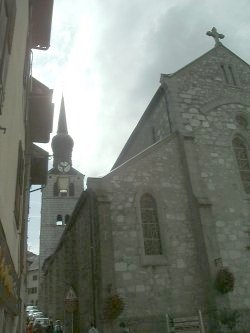 Front of St Jean Baptiste Church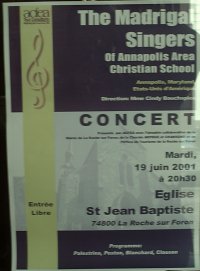 Concert poster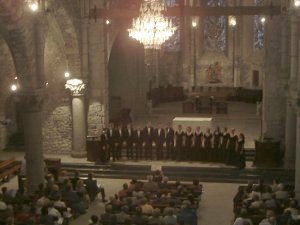 The Madrigals' performance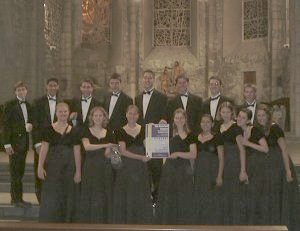 More of the Madrigals at the concert reception with their Home Stay Sponsors
The Madrigals had wonderful stories to share about their first night with each of the families that housed, fed and took care of them. The home stay hosts were incredibly gracious and kind to all.
We had a beautiful morning which started off with a guided tour of La Roche sur Foron. What a beautiful place this is!
We departed for Annecy and arrived under beautiful skies and warm weather. As time allowed, some of the madrigals shared about their first night with their French families during devotions on the bus ride. All were very thankful for their new experiences.
Upon arriving in Annecy, we had about four hours of free time to explore, shop, paddle-boat, and have lunch. The lake with the mountains in the background is breathtaking.
We returned to La Roche and had a wonderful concert in a beautiful space. The Madrigals were well received and the Mayor of La Roche truly honored them with a La Roche sur Foron Medal of Honor!
A concert reception followed with great food. The local cheese is excellent! What a great day this has been!
---
Reflections on the Day - Loris Nebbia
The home stays were a fabulous success. When the students return to us this morning, they are well rested, well fed and exuberant. Each one has an enthusiastic story about the warm hospitality of his or her host. Some of the highlights:
Jon Grunert's host family was familiar with Apple Valley, California James' host, an elderly man who spoke little English, played pool with James and was an otherwise fascinating person.
Connie's family, who have three boys of their own, were thrilled to have a girl in the house. The family fed her a delicious meal and then drove her around town, showing her all the old, interesting places. We met up with them after our dinner when the mother of the family beckoned us into the village church. (We were just leaving the restaurant). Connie was playing the magnificent, historic organ!!
Valerie and Emily stayed on a little farm outside of town. It was a dairy farm where they make their own cheese. To keep Emily and Valerie company, God provided, a delightful grandmother, 3 children, including a fifteen-year-old girl who was also interested in music, a litter of kittens, and a collection of quail. Though invited to take a kitten with them, the girls managed to resist this very strong temptation.
Erin and Denise were housed with a relative of the mayor. His wife spoke Spanish, which made the evening easier on Erin. They were given a delicious five-course meal and had the privilege of staying in a lovely home.
Two families who were good friends escorted out Jon,, Jeremy, and Mark to dinner.
Leslie and Charissa stayed with an elderly woman who spoke almost no English. She asked her granddaughter, who studies English, to come over for dinner and they all got along extremely well. They were given their own little studio apartment, complete with a bathroom, kitchen and lots of room.
Everyone made new friends, exchanged addresses and invitations to visit again.
We enjoyed our morning tour of our host ton La Roche sur Foron, and we loved the little historical town of Annecy, which we visited in the afternoon. Both are medieval towns, charming with castles that overlook the Alps, stone streets with old charactered houses, each more picturesque than the last, abundant, colorful flowers, and churches austere and lovely.
The highlight of the day, of course, was the concert in the evening. The students sang their best, and were very warmly received. Their performance was beautiful, musically proficient, full of emotion and joy. The church nave was wider, so that all the students were able to be seen, promising an excellent video recording.
Cindy impressed us all by reading a farewell greeting and thank you that she had written and Suzanne, our tour guide, had translated. This extra effort added that special polish for which Cindy's work is so well known and the graciousness of the gesture touched the people of La Roche sur Foron, of whom we had grown so fond.
At the end of the concert, the mayor presented Cindy and the Madrigals with the Medal of Honor from La Roche sur Foron. This extraordinary tribute elicited a profound sense of humility. The Madrigals believed they had come to minister, but this little town had given to them the way the Lord gives – abundantly above what we ask or think possible.